Back
Use your Noodle
Enterprise AI gets Ueno treatment
Ueno is happy to announce a complete rebrand, including a new website, for Noodle.ai, a San Francisco-based company that promises to eliminate massive amounts of waste generated by industries at the heart of your friendly neighborhood global economy.
Noodle.ai gobbles up huge amounts of data, finds patterns in it, predicts what will happen next, and suggest actions that help save energy, money and resources, as well as reduce waste and pollution.
With a leadership team that comes from giants such as IBM, General Electric, Deloitte and Infosys, Noodle.ai has raised $51 million in two rounds of investment since its foundation in 2016. "That should be should be just enough to cover the cost of the rebrand," said Karli DeFilippo, Ueno's Director of Partnerships.
"That was a joke," she was quick to add. "Please don't print that."
Who's your data?
A radically efficient strategy
Noodle.ai came to Ueno for a rebrand that would help define the company's character, mission and values. They also wanted to show the team's expertise and the complexity of their work in a way that would be comprehensible while also remaining true to their proudly nerdy company culture.
Their vision is to create a world without waste, a world without overproduction, defects, unnecessary transport, emissions, delayed and ill-formed decisions. "'Radical efficiency' became the strategic rallying cry that influenced everything from messaging to visual identity, website design and even brand moments for their new office space," said Creative Director Aaron Poe.
"The most challenging aspect was making complex technology simple to understand without oversimplifying it," said Creative Director Grayden Poper. "We worked hard to find the right balance of not making the information too watered-down or overly detailed."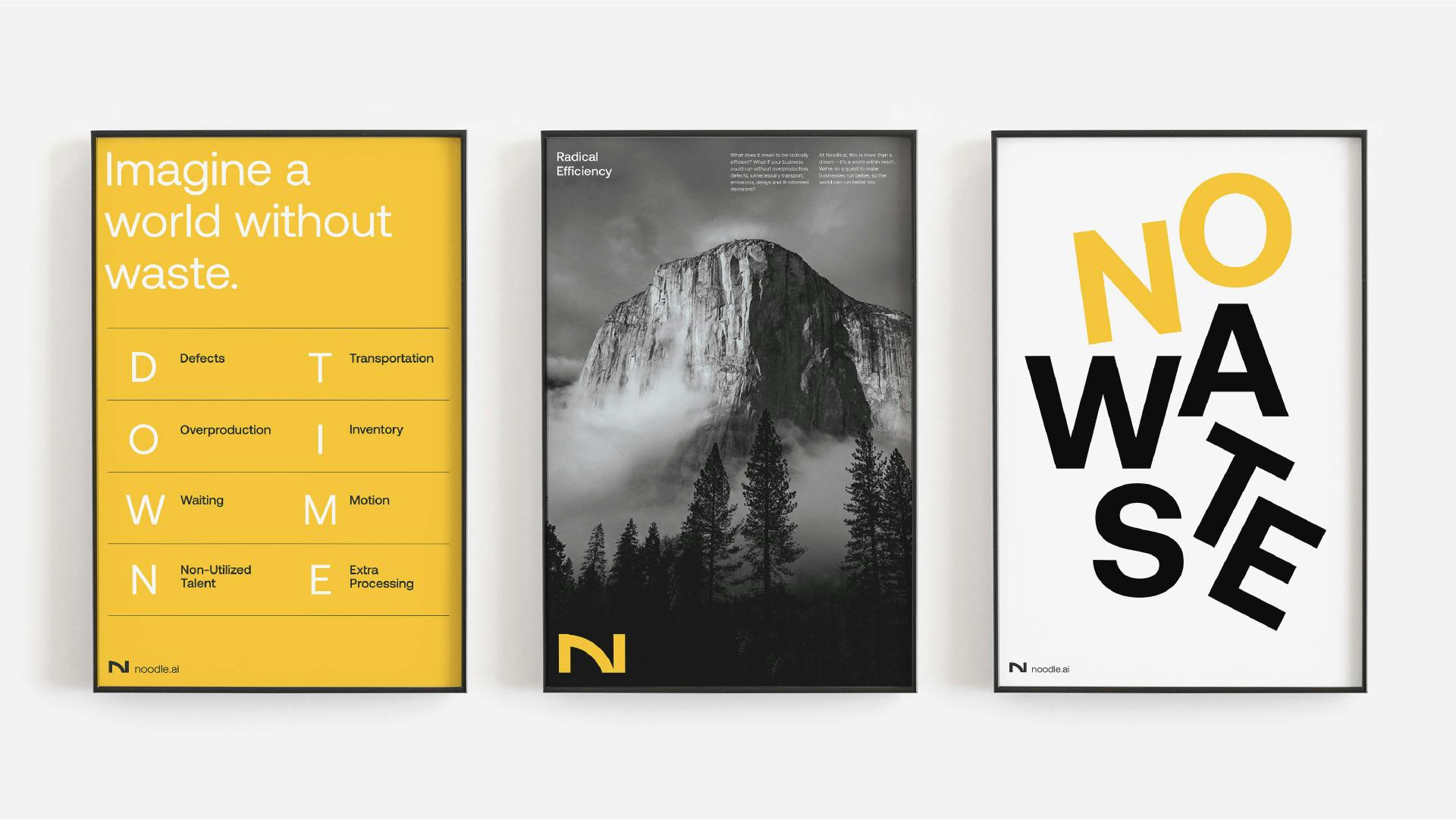 Always the most fun part of every rebranding project
N = AI²
Overall, the rebrand has a crisp technical feel that's tempered by a subtle humor and human warmth.
The new logo takes the form of a bold "N" that can also be read as an "AI," which we thought was very clever. The "factory yellow" color palette is inspired by the industrial workplace, and the typography is crisp and modern. We took that look a step further with a set of custom glyphs or a "mathabet" that became part of the visual identity and loading animations for the website.
The copywriting is light and non-technical, which fits Noodle.ai's playful company culture. An example: users who want to know what Industrial AI is can use a "translator button" to read descriptions suited for normal people, PhDs, or robots, which we also thought that was very clever.
Pixels at work
Deliverables
Ueno was responsible for brand strategy, identity, web design, web development, messaging framework and art direction. The project launched on March 25, 2019.

Still here?
Go to Noodle.ai
Oct 22, 2019
Pole position
In only eight months, one in every twenty people in Poland have signed up for a new app Ueno created with Zabka, the country's largest retail chain.
Read more
Oct 10, 2019
People power
Meghan Rose, pictured here enjoying her daily recommended dose of Vitamin C, is a new designer at Ueno in San Francisco.
Read more