What we did
Brand strategy
Identity
Web design
Web development
Messaging framework
Photography
Art direction
Launched in 2018
In 2016 a team of software engineers launched a collaborative project management platform they had created with people like themselves in mind. Called Clubhouse, it quickly became that rare thing: a productivity tool that users actually loved.
The brief
Launched with a laser focus on making an insanely great app, branding had originally taken a backseat. Two years later, with a good product-market fit, the team asked Ueno to help them create a truthful and exciting brand identity that would set Clubhouse on a path toward growth.
Ueno isn't your average agency. Their ability to think creatively, challenge assumptions, challenge the industry at large, and really dig deep to understand who we are and what we're trying to do, all led to a successful, rewarding outcome that I think we all feel very proud of.
That was then, this is now
Branding for growth
From its launch in 2016, Clubhouse has been focused on fundamentals. By making a tool to help developers collaborate to create software (rather than to help their bosses manage them), it quickly became a successful SaaS company with a product that users loved working with.
But for someone unfamiliar with the platform looking at it from the outside, none of this was obvious. Set on finding a good product-market fit before going all in for growth, Clubhouse had let branding take a back seat to product development, with marketing coming mostly in the form of word-of-mouth.
In mid-2018, the team felt that their platform was ready for a bigger audience. In advance of a major marketing push, they asked Ueno to help create a brand that would accurately reflect the company and its product, lift Clubhouse to the upper echelon of software development tools, and last but not least, fuel long-term growth.
Let's see some ID
The strategy
The Ueno team began by spending time at the Clubhouse office, getting an introduction the company and its culture, getting to know the product, listening to users and studying the market.
On the lookout for a direction, we noticed early on that Clubhouse had strong links with grassroots users. They loved the balance of simplicity and flexibility. They loved the unique narrative approach, with projects built around the concepts of Stories, Milestones, and Epics. And they loved that it was clearly designed to bring the best out of teamwork.
After some initial explorations, we kept coming back to the observation that Clubhouse was that rare thing: a productivity tool that teams actually enjoyed using.
A strategy began to emerge.
We set out to create a brand with feeling, something that spoke to celebrating the epic wins within the software development lifecycle.
Raising the flag
The elements of the brand
Joy and team celebration would be the key concepts that would flow through everything the brand touched: a new visual identity, a messaging framework, a new marketing website, and various other communication materials — a complete identity system that will fuel Clubhouse's growth in the coming years.
A celebration of milestones reached and products shipped, the raised flag is the cornerstone of the new brand identity. The cheerful new logo is supported by approachable typography, bouncy animations, beautiful custom icons, marketing language that emphasizes the joys of collaboration, and lots of happy colors.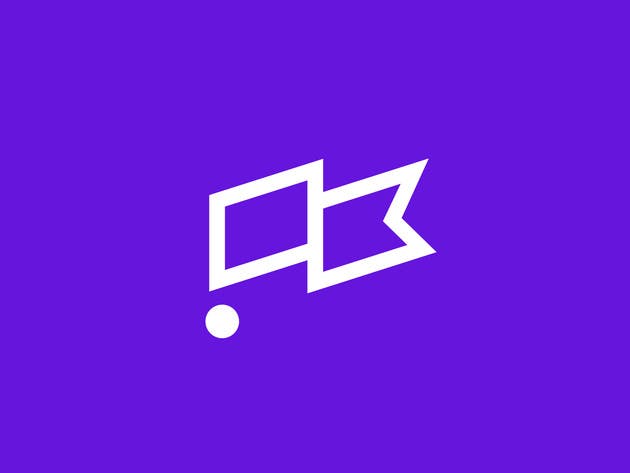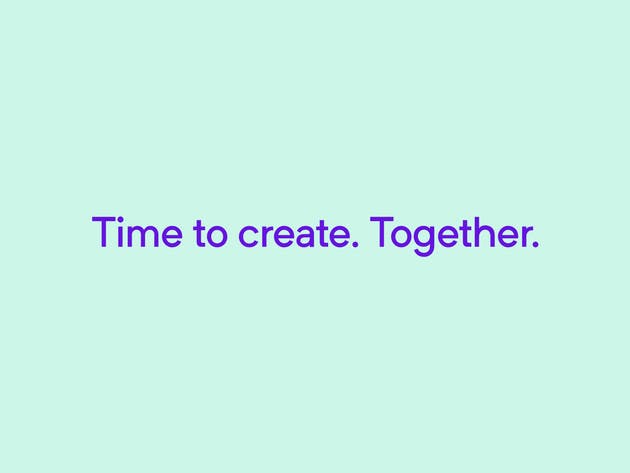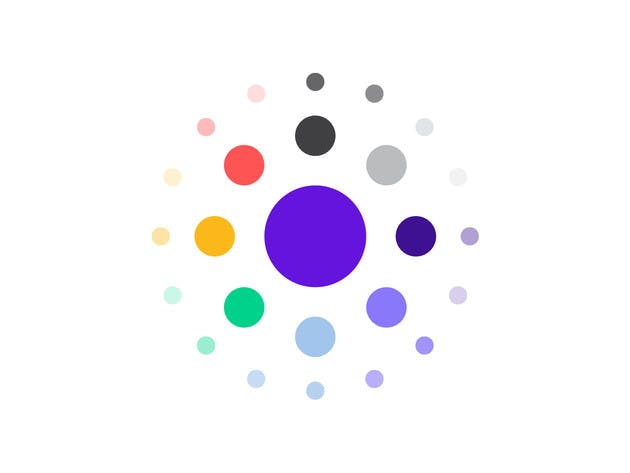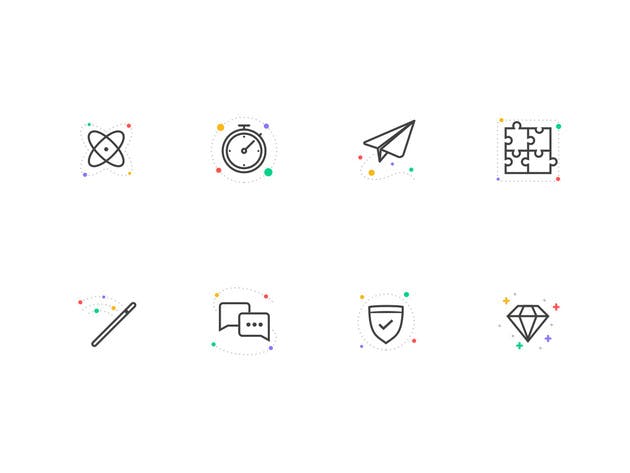 Home improvement
A new website
Clubhouse's new marketing site was an opportunity to put our fancy new branding system to the test in a real-world setting.
Using all the elements of the brand — the colors, shapes, typefaces, tone of voice, and all the rest — the site is designed to tell the Clubhouse story in a way that feels true to the brand, consistent, trustworthy and convincing.
With simple navigation, context-based messaging, and clear calls to action, the site's main purpose is to convert visitors to customers. But to achieve that it also has to tell the story and bring the brand to life through the design.

The flag and the dot were consistent graphical elements through the site. Plenty of white space and a clever tone of voice bringing an open and friendly vibe. Screenshots from the app bring the product into focus, and photos of real customers and employees bring a human dimension to site and the marketing materials.
Going places
The brand in action
From billboards to business cards, on the streets and in the sheets — over its lifetime, a brand will show up in all kinds of places. That's where the brand system comes in.
Branding is arguably about being consistent. A brand system is really a set of guidelines meant to ensure that the brand looks and feels the same in all kinds of different settings, formats and media, throughout its lifetime. It defines colors, shapes and typefaces, the right tone of voice for different contexts, and even how to take and process the photos representing the brand.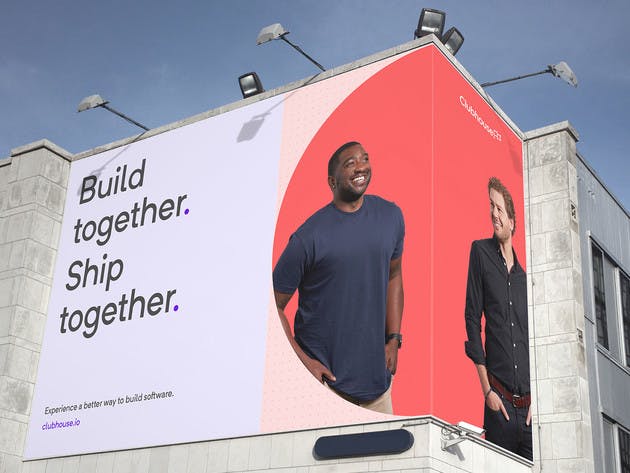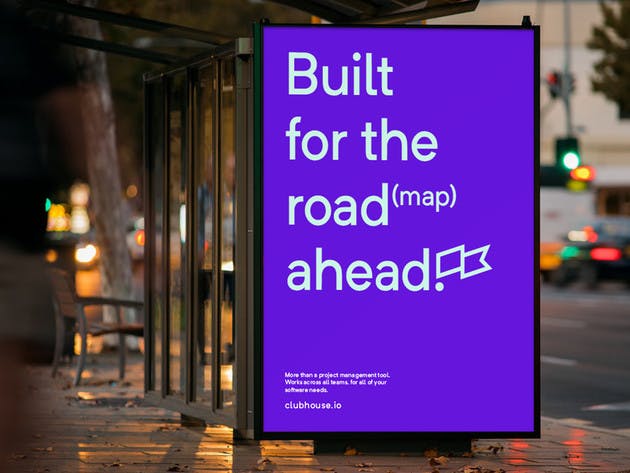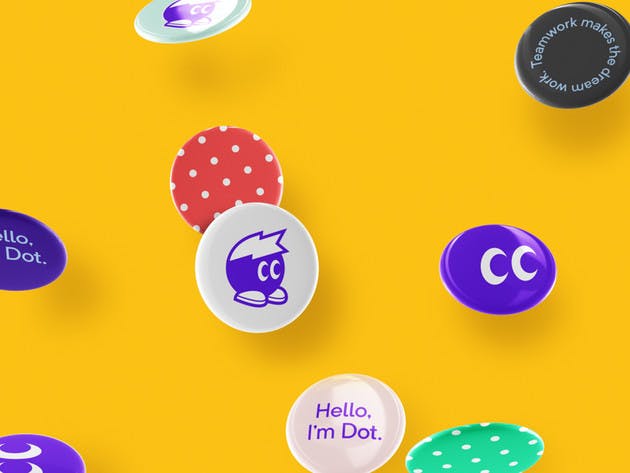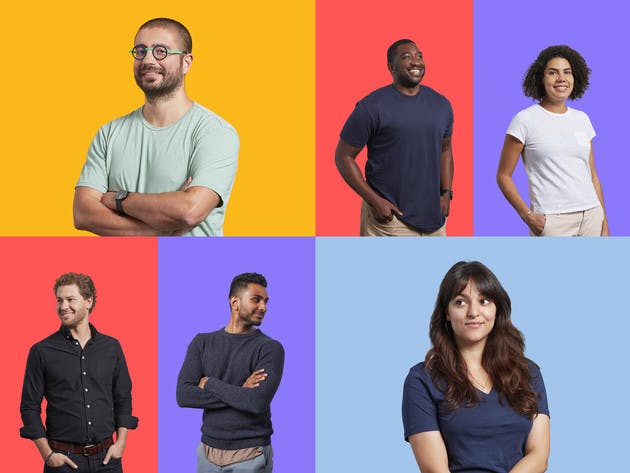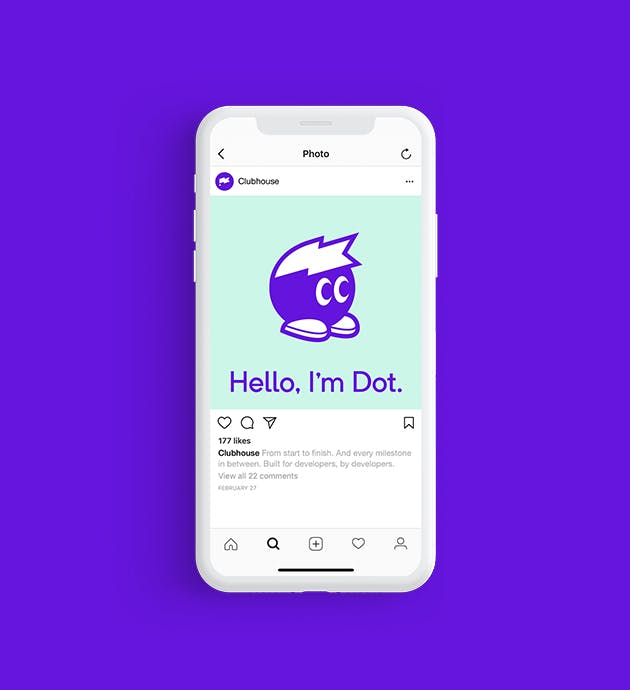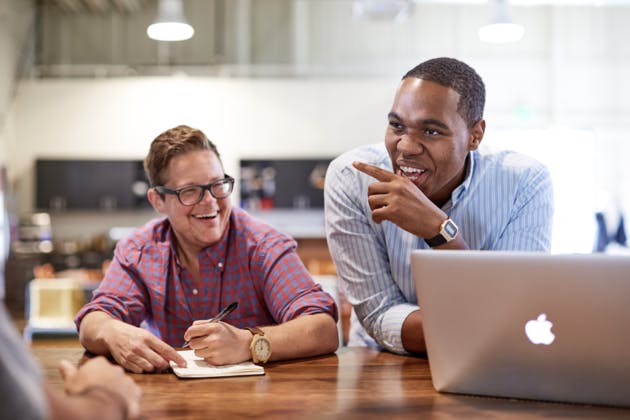 "Dot" is Clubhouse's new mascot, looking good stuck to your laptop and celebrating every milestone.
Ueno offers a unique set of capabilities that are rarely found in high-end branding firms. They seamlessly transitioned the branding strategy and design work to their web development team, translated the story into an effective marketing site, designed the UI, and developed the CMS back-end. I highly recommend them.
Built to code
Web development
Web development was a true collaboration: Ueno brought to the table a modern, advanced front-end stack, and Clubhouse brought best-in-class backend infrastructure.
Ueno's developers and designers worked together to optimize the user experience, with everything designed to delight users without slowing down their experience. Headlines and background sections scroll and cross-fade quickly, and we used GreenSock to make animations render smoothly.
The site is built in React, our javascript framework of choice, and one that Clubhouse's developers work with daily on their applications. Gatsby pulls in data to build a static, single-directory, serverless website that can be deployed to S3 or a CDN for optimal performance. For content management, we went with Prismic, a CMS that lets editors compose pages with reusable components, giving them much greater flexibility than with fixed templates.
We noticed at one point that Gatsby didn't work properly in one browser. We investigated the problem, found a solution, and opened a pull request to Gatsby which solved the problem potentially for thousands of other websites. This is how open source works, and we embrace it whenever we can.
Positive outlook
The results so far
"Great rebrand. I used to introduce Clubhouse to people as 'ignore the horrible logo, it's actually a great tool.' This new color scheme and icon tweaks are really nice. Awesome job!"
– Email from a user
The new Clubhouse brand and website launched in November 2018. The project was completed in about four months, and involved designers, strategists, photographers and developers from Ueno working closely with the Clubhouse team.
The new website immediately increased user engagement and the number of inbound leads. Feedback from the Clubhouse user community has been overwhelmingly positive, and judging by the feedback Clubhouse's management provided for this case study, we think it's fair to say that they have been very pleased with the outcome.